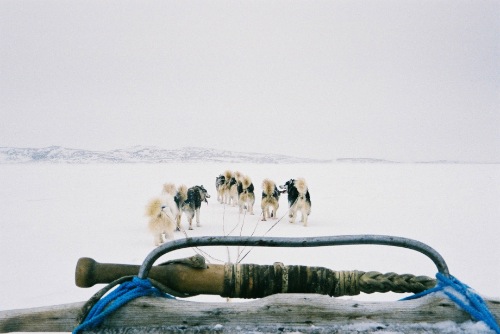 Travelling by dog team with Huit Huit tours, on the sea ice outside of Cape Dorset (April, 2004; G. Laidler).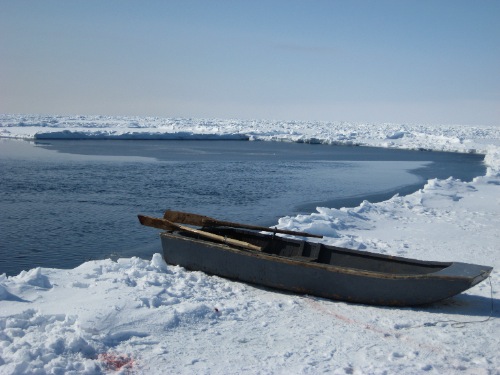 Retrieval boat at the floe edge in Cumberland Sound (May, 2009; G. Laidler).
Boating in Pangnirtung Fiord (June, 2008; G. Laidler).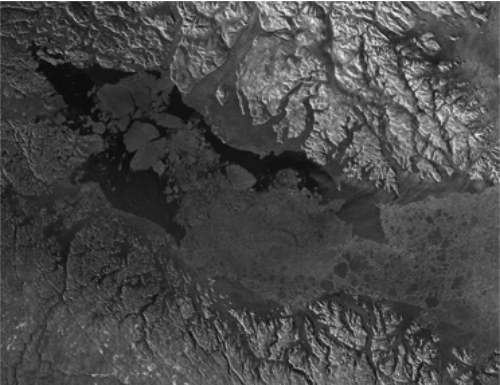 April, 2005 satellite image of sea ice in Cumberland Sound. (RADARSAT-1 data @ Canadian Space Agency 2007/2008).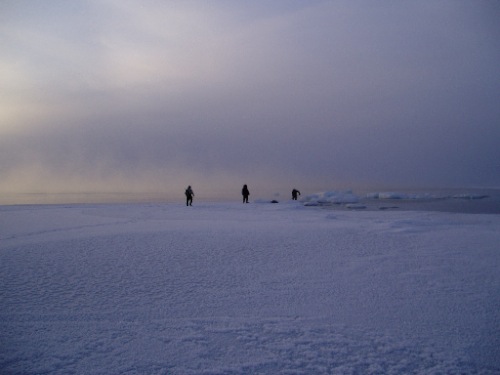 Collecting seaweed at the winter floe edge (Tellik Inlet near Cape Dorset, January, 2005; G. Laidler).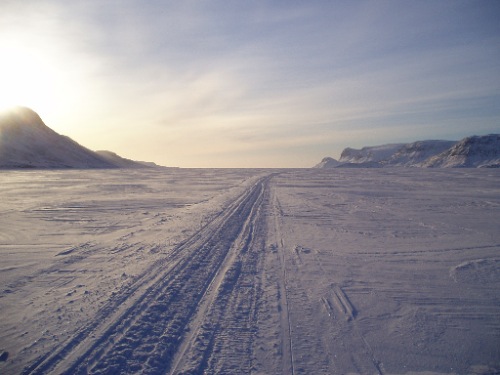 Sea ice continues to be used as an important travel "highway" in coastal Nunavut communities (Pangnirtung Fiord, February, 2005; G. Laidler).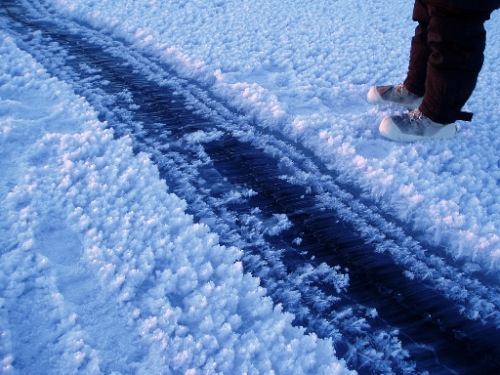 A tidal crack (nagguti) that has just opened up in the fall in Turton Bay, and is starting to freeze over (November, 2004; G. Laidler)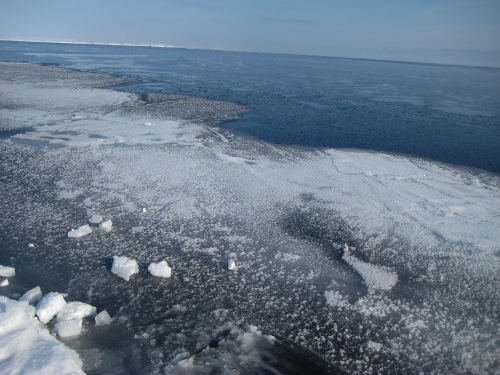 New ice (uiguaq) forming along the floe edge in Cumberland Sound (May, 2009; G. Laidler).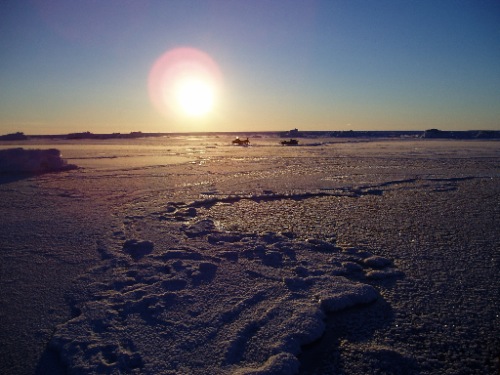 The snowmobile and qamutiik is left behind because the ice around the nearby polynya was only strong enough for walking (Igloolik, November, 2004; G. Laidler).
Welcome to the Atlas of Inuit Sea Ice Knowledge and Use.
> Atlas community consultations
We invited northern community members, researchers, and anyone else interested in these topics to take a few minutes to fill out a short survey to provide their feedback on the siku Atlas. This consultation ran from mid-January to the end of February, 2011. We received over 30 completed surveys, and over 60 surveys with partial feedback with overall positive and constructive feedback. We also received some informal feedback, provided directly to researchers involved. The feedback was very helpful in addressing some important issues and improving this site as a potential educational resource for northern youth. However, not all feedback could be incorporated by the time of the official Atlas launch (March 17, 2011), and may require additional collaborations and projects to follow up on larger issues. The survey will remain active and available to receive ongoing feedback. If you are interested in developing a follow-up project we encourage you to contact Gita Laidler. Also, despite requesting new names for the Atlas, we had a large majority who said it was fine as is, so we have left the title for now, based on this feedback. Thank you and qujannamiik. ISIUOP Team.
In this atlas you will learn about Inuit knowledge of sea ice (siku) around Baffin Island, Nunavut
Sea ice is part of life...
Sea ice is a part of life for Inuit in northern communities. All but one of Nunavut's communities is located along the coast. Even though lifestyles have changed a lot over the past 50 years, Inuit families still rely on the sea ice for travel, hunting, harvesting, diet, recreation, livelihoods, health and cultural values. Sea ice drives seasonal patterns of land and ocean use for both people and animals by freezing in the fall, being a solid cover or moving ice in the winter, and melting in the spring.
Working together to document and share Inuit knowledge of sea ice...
A group of Inuit experts, community researchers, and university researchers, have worked together over the past several years to document specialized Inuit knowledge about sea ice. Inuit elders and hunters are the local experts on sea ice. Through long term observation and experience with the sea ice, they have developed deep and rich understandings of the marine environment. They had to learn about the relationships between winds, weather, tides, currents, and sea ice in order to: travel safely on the sea ice, understand animal habitat and behaviour, hunt successfully to provide food, clothing, and other materials for their families, and to survive in traditional times. Although things have changed with most Nunavummiut (people of Nunavut) living in communities now, sharing many of the same amenities of the rest of Canada, sea ice continues to be an important part of northern life and culture.
Documenting oral knowledge for youth safety...
Much of this detailed Inuit knowledge is not written down. It has been passed on orally over generations, and through long term use and experience in this environment. However, today, elders and hunters recognize that youth are not travelling on the land or ice as much. Young Inuit are busy attending school, and are involved in many other aspects of community life. This doesn't mean that youth do not use the ice. However, it does mean that when they do travel on the ice, they have less experience (from spending less time on the ice), they travel faster with snowmobiles, and they rely more on technology for navigation. All of these things are a concern to elders and experienced hunters, who want to make sure that youth are safe on the ice. They want to be sure that young hunters have the survival and navigational skills needed if their snowmobiles break down, or their GPS runs out of batteries. They are also concerned about changes being observed in seasonal sea ice conditions, and want to be sure that youth are aware of these changes, and know how to identify signs of danger as they travel in more unpredictable times.
Incorporating Inuit knowledge into northern educational programs...
Due to some of these concerns, there has been a lot of interest in documenting Inuit knowledge of sea ice to make sure that there are written records for the future. This is a way of sharing sea ice knowledge, and also preserving aspects of the Inuktitut language in various local dialects. Part of this interest was also to have written materials that could be included more into school programs (whether in the classroom or on the land/ice), so that students can learn about Inuit knowledge and language of sea ice.
The elders want to share their knowledge...
Hear from a Resident of Cape Dorset, David Irngaut from Igloolik, and Mosesee Nuvaqiq from Pangnirtung, about why this sharing and documenting of knowledge is important to them.
It is for these reasons that this sea ice atlas was developed. Inuit elders and hunters wanted to:
share their knowledge with youth
see more Inuit knowledge and northern content in the northern education system
share their knowledge more broadly with scientists and the general public
Learning through sharing stories, and interacting with materials...
Many written documents have been developed before from various research projects. This atlas is a way to share stories in the form of maps, audio, video, pictures and text, in a way that encourages different types of interactive learning. Making this material available online, also means it can be shared across Nunavut (and even Canada) and it can be updated more easily. Eventually, the goal is that it can also be modified and updated by Nunavut community members and Inuit experts themselves.
This atlas is meant to be an educational resource for northern schools, youth, and scientists, who wish to better understand Inuit perspectives on the sea ice environment. This material has been developed to be interactive and provide a comprehensive view of project results to date, as well as to enable local experts to share some of their stories in their own words.